Alec Ingold's Money Mini Camp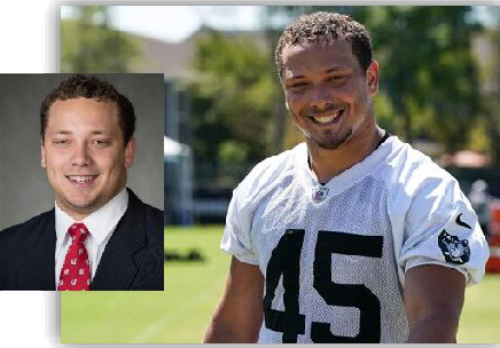 Las Vegas Raiders, Alec Ingold has a secret that has helped him achieve not only great success on the football field, but also in his personal life. What many people don't know is that Alec holds a degree in Finance from the University of Wisconsin and is passionate about finance and football. His passion project for youth in Southern Nevada is the Money Mini Camp changing the trajectory of all students by partnering with Junior Achievement's Finance Park program to ensure the next generation is prepared to be the leaders we need in Nevada.
Money Mini Camp shares important financial life skills and ties career pathways within the NFL exposing students to ways they can be part of the team that makes game day happen. Students learn about the career options and education expectations for job opportunities that exist with the Las Vegas Raiders while hearing first-hand from Las Vegas Raiders players on how to career plane and manage their finances. JA's Finance Park experience showcases these careers through its JA Finance Park Virtual simulation where students become an adult for the day through the assignment of a Las Vegas Raiders job, income, marital status, credit scores, and even kids of their own! Students are tasked with having a balanced budget at the end of the simulation that is built over 26 different financial decisions/bills.
What you need to know.
Money Mini Camp is being offered to your student group or class completely free of charge.
There are a total of 14 lessons that are covered with the 13th lesson being the JA Finance Park Virtual experiential learning experience. This is design ed for 8th through 12th grades.
Lessons are teacher led or student self-guided with teacher support.
A limited number of students/schools/student groups will be able to participate.
Students will be expected to attend the Pre-Game Google Meet with Alec Ingold & Friends. This will be the opportunity for students to hear pointers before playing the JA Finance Park simulation from Alec. This will be approximately 45 minutes.
All school's/student groups will complete their JA Finance Park "Raiders Style" the week of May 10, 2021.
Students and teachers agree to participate in post event survey.
A lottery will be held for up to 100 students who participated in the Money Mini Camp for a Meet & Greet with Alec & Friends in June 2021. All students who complete the program verified by their teacher will be entered into the lottery to attend with one parent/guardian.
To learn more or register your class or school's participation in Alec Ingold's Money Mini Camp contact Junior Achievement of Southern Nevada.
Organizations Partnering With Us
We use cookies to provide you a personalized experience. How we do this is by analyzing user behavior on our site and sharing data with our advertising and analytics partners. You consent to our cookie policy if you continue to use this website.