Volunteer for Junior Achievement!
K-12th Grade Students and Students aged 18-25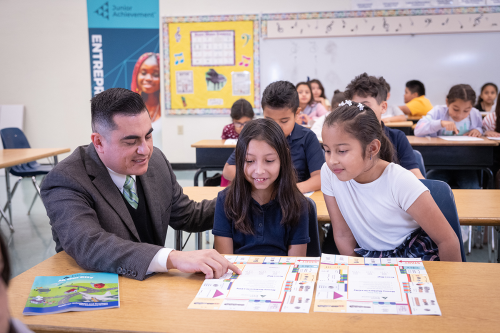 To ensure that you have a successful and fulfilling experience as a volunteer, we have outlined the following steps that need to be COMPLETED before you can participate in classroom activities:
*NEW VOLUNTEERS* Need to complete the self-led training.
*RETURNING VOLUNTEERS* Don't need to repeat training.
Step 1: Self-Led Volunteer Training: To prepare you for the classroom experience, we kindly request that you complete our self-guided volunteer training. This training will provide you with valuable insights and tools to effectively engage with the students.
If you find that you have additional questions, please let us know, and the program coordinator who pairs you in your classroom will be able to provide you with more guidance as it aligns with the grade level you volunteer for.
Step 2: Required Documents: *ALL VOLUNTEERS NEW AND RETURNING*
NOTE: THIS STEP IS REQUIRED. THE Volunteer Participation Form IS NOT THE SAME AS THE FORM BELOW AND MUST BE COMPLETED.
In compliance with Junior Achievement and other education partners' policies, we kindly ask that you complete and return the Volunteer Participation Forms. These form needs to be submitted for each school year. You can find these forms in the attached packet. Please return the completed forms to us at your earliest convenience.
Step 3: Watch the Video: Please watch the following video: https://www.eduvision.tv/l?eOeyLgD
The video will ask the viewer TWO questions. Please answer BOTH questions (see below).
What organization/ company: JUNIOR ACHIEVEMENT
First name/Last name
Step 4: CCSD Application: Clark County School District requires all volunteers to complete an application. Please take a few moments to fill out the application at the following link: CCSD Volunteer Application.
Step 5: Complete Sterling background check *If not in our system- you will get an email from the Education team with the link to complete.
Step 6: Paired to JA Program: You will be contacted by your program coordinator and they will get you paired with your teacher and materials to be classroom-ready.
Thank you for volunteering.
AVAILABLE SIGN UPS
Organizations Partnering With Us
We use cookies to provide you a personalized experience. How we do this is by analyzing user behavior on our site and sharing data with our advertising and analytics partners. You consent to our cookie policy if you continue to use this website.