JA Inspire - First event, December 11, 2023.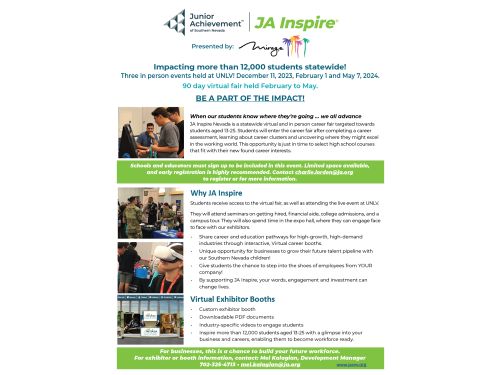 In-Person at UNLV December 11, 2023
Where: In-Person and Virtual
JA Inspire is more than a career fair: It brings together the business community and local schools and is designed to help launch teens and young adults into their future—postsecondary education and their careers. The program consists of three segments: (1) pre-event career-oriented sessions; (2) the JA Inspire event, and (3) a post-event reflection. The JA Inspire event (in-person, virtual, or both) provides participants a powerful way to learn about real-world career opportunities and their local economy.
For businesses, this is a chance to build your future workforce.

In person Event (UNLV)

Students will attend seminars on getting hired, financial aide, college admissions, and campus tours. Additionally, they will have the opportunity to interact in person with prospective employers during their time in the expo hall.

• Three in-person expo days scheduled at UNLV Unique opportunity for businesses to grow their future talent pipeline with our Southern Nevada children!
• Give students the chance to step into the shoes of employees from YOUR company!
• By supporting JA Inspire, your words, engagement and investment can change lives.

Virtual:
Junior Achievement of Southern Nevada will host this 90-day virtual event starting February 2024 through May 2024, to all Nevada students. Last year's virtual event drew in 12,000 participants from across the state.

JA Inspire is a virtual career exploration fair that hosts beautiful booths custom designed to represent the industries and opportunities available to all students in Nevada. Students can engage with corporations and businesses while collecting items from each booth they visit to place in their virtual "swag bag' or they can attend a number of live and recorded presentations in the Auditorium.

Businesses, within many of the 16 career clusters, will have virtual booths with career and company information, videos, pamphlets, and more. All developed by the business, just like an in-person career fair. Students have the opportunity to visit as many booths as they would like. They may visit businesses within their career cluster chosen through the assessment, or they may visit others that seem interesting to them.

The students' swag bag allows them to collect information from the booths and access it at a later date. Even better, they have access to the entire career fair for 90 days after the event, allowing them to share information with teachers and others at home.

JA Inspire can be completed while in school or while students work remotely. It's up to you. There are no chatting or live speakers, so it is a completely safe environment for all.
Become a Sponsor!
Sponsorships for these events are critical for Junior Achievement to continue providing life-changing programs to students in our community. These programs are delivered at no cost to students. You can make a difference in the lives of these students by participating in this world-class event!
Contact us
to get more information on how to sponsor a JA Event!
We use cookies to provide you a personalized experience. How we do this is by analyzing user behavior on our site and sharing data with our advertising and analytics partners. You consent to our cookie policy if you continue to use this website.